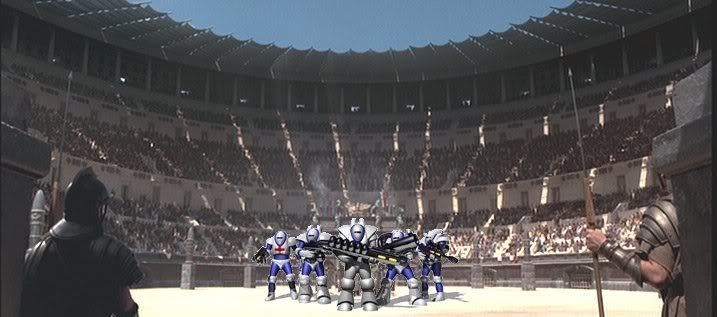 I present thee, a new HQ/area control based knockout competition known as Colosseum Tournament!
30FP worth of marines on marines 50 turners of HQ game on this specially designed map that can be won by controlling areas! They will be 30 dayers, and unsuprisingly will be played upon "Colosseum Tournament"
Remember to be careful with the forcefields near your deployments. If somebody goes and puts them on, it's bye bye time for your HQs!
That is of cource, if you let them!
In case for a draw it's a rematch.
We will take in 16 player at first, and if the headcount starts rising, 32 can be taken at tops!
Sign in now by posting your name in here. I, of cource, am taking part on this one, would never want to sit such an opportunity out!
Click me for homepage
Arena is full (16):
Mr Cartier
LastBullet
GregHolg
Lagwagon
Ragman
Erland
John Johnston
Aim Here
Wellan
Oddball
Sohir
limavictor426
Henjed
Orkboi
Zipdisk
RotWng
WE will kick off as soon as we mapmods get us randomized!
If we have 16 more, we can get heat 2 running and the champs of those clashing.